Chike Osebuka, Sharon Ooja Egwurebe and Adenike Adegboyaga cover the new  Guardian Life magazine's "January  2017  edition."
The Guardian Life magazine had a conversation with each one of them. They talked about their new life, being in the spotlight, projects and the future.
Read excerpts below
The 23 year old, Chike Osebuka, is  known for his outstanding and great  performance at The Voice Nigeria. the young artist  emerged the first runner up.
According to the young star, music has always been part of his life since he picked it up 'subconsciously'. The singer who believes " to always follow your dreams" auditioned for the  The Voice Nigeria.
Chike gave brief details about his life  and how he looks back on his year, he talked about his notable achievements being not only participating in The Voice Nigeria competition, but also being much bolder than he has ever been.
Sharon Ooja Egwurube is one of the star characters in the on line TV  program Skinny Girl in Transit  which shows on NdaniTV.
Sharon is the new-fresh face from the North, She moved to Lagos five years ago. Although the actress is still new to Nollywood, she has made quite a remarkable impression.
Sharon is a christian and she attributes her rise to fame to the grace of  God, as her initial career path never included acting. After changing her course from business administration to mass communication at Houdegbe North American University, she says; "I legit bumped into acting. I went for a photoshoot, this was like in 2013, after the shoot one of the women there, said she would like to invite for an interview and that is how I came in contact with Ndani TV. After that, they started using me for so many other things, and I'll just say it's God because I never planned to act but I love every bit of it."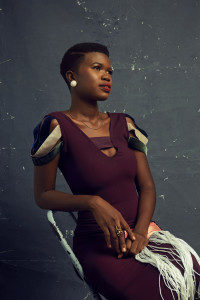 Adenike Adegboye is a perfect of example of the new multi-skilled creative breed with an impressive following of 10,000 people on social media, she describes herself as a designer, blogger, street style photographer and stylist.
After obtaining a history and international relations degree at Babcock University, she explains, "That was my first degree because my parents didn't want me to go into artsy stuff; they wanted a 'proper' degree. So I did that at first before I went to study in Italy."
Adenike was destined to be a creative from the start as she recalls buying her first sewing machine 12 years ago, with her Christmas money. Although her parents did not support her creative tendencies at first, she was always encouraged by her mother to be useful with her hands.
After her debut at the GTB fashion weekend in October last year, the exceptional creative is looking forward to working on her brand as she puts her design talents to good use in 2017.
According to Adenike, the world should be expecting a "ready to-wear collection as well as a bridal-wear line, late next year."